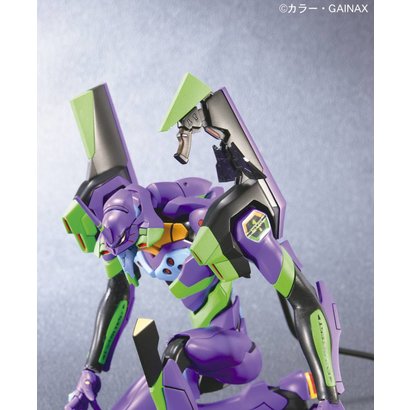 BANDAI MODEL KITS
150533 #01 EVA-01 Test Type "Rebuild of Evangelion" Bandai HG Evangelion
BAN150533
Availability:

Out of stock
Bandai 150533 #01 EVA-01 Test Type "Rebuild of Evangelion" HG Evangelion ...
More information
Product description
Brand:

BANDAI MODEL KITS

EAN:

4543112505330

Article number:

BAN150533

Availability:

Out of stock
This is an injection-plastic kit of a science-fiction/anime item.
This highly detailed kit of EVA-01 as it appears in the "Rebuild of Evangelion" movie series features nicely articulated joints (including seamless arm joints) and comes armed with a progressive knife that can be stored in its left shoulder armor, gatling gun, and a pallet rifle. Other accessories include an entry plug that can be inserted behind EVA-01's neck, six optional hands, and an AT field with an opening in the middle that can be used to recreate the memorable scene where EVA-01 tore open Sachiel's AT field! Dry transfer decals and foil stickers are included to detail the kit even further after completion. A special joint part is included to display your completed EVA-01 kit on Bandai's Action Base 1 (linked below).