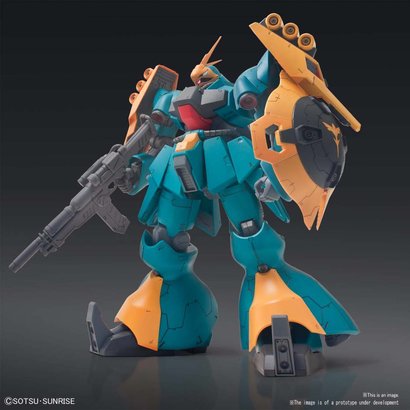 BANDAI MODEL KITS
5055331 #10 MSN03 Gyunei Guss' Jagd Doga "Char's Counterattack", Bandai RE/100
BAS5055331
Bandai Hobby 4573102553317 BAS5055331 #10 Gyunei Guss' Jagd Doga "Char's Counterattack", RE/100 by Bandai Hobby ...
More information
Product description
Brand:

BANDAI MODEL KITS

EAN:

4573102553317

Article number:

BAS5055331

Availability:

In stock
Release Date : Oct 2018  Moon Gundam

Series : Char's Counterattack

Original : Mobile Suit Gundam
Scale : 1/100 - RE/100

GUNPLA / Bandai Hobby

UPC code : 4573102553317
Item code : 5055331
Sandy UTAH MRS Hobby Shop in-store SALES include Sale Tax on items over $250.00. and 1 point per dollar spent Customer reward program. 200 = 10$ certificate+ 
#10 Gyunei Guss' Jagd Doga "Char's Counterattack", Bandai RE/100

he movie "Mobile Suit Gundam Char's Counterattack" celebrates its 30th anniversary with the release of  Gyunei Guss' Jagd Doga to the RE/100 series for the first time! Its unique design allows this model kit to be displayed alongside other "Char's Counterattack" MG series kits sold separately, such as the Nu Gundam Ver. Ka (BAS5055454), Sazabi Ver. Ka (BAS5055457), MG Geara Doga (BAS5055456) and Jegan (BAN230348). While having proportions faithful to the image of the MS in the file, intricate details have been added to create a dense design. A clear arm is used to display all 6 unfolded tunnels in the back of the MS and other gimmicks in the thrusters and funnels are also included. Superior color division as shown by Bandai's use of proprietary color injected plastic, allow red sections (such as the shield, sub-thrusters, and the inside of each of the verniers) to be recreated by simply assembling the kit without the use of paint. Set includes a Beam assault rifle, Beam saber, funnels x6, shield, and funnel display arms x6. Runner x16. Marking sticker sheet x1. Foil sticker sheet x1. Instruction manual x1.

 

Product size: Approx 7"
Package size: Approx 15.4x12.2x4.2 in