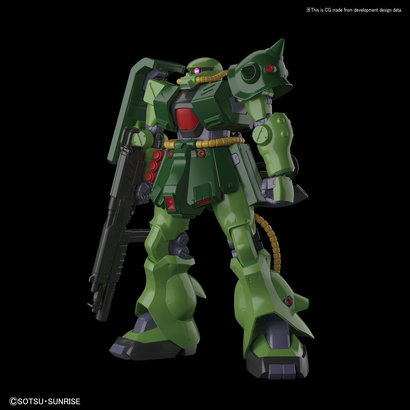 BANDAI MODEL KITS
5057791 #13 Zaku II FZ "Gundam 0080", Bandai RE/100
BAS5057791
Availability:

Out of stock
This is a #13 Zaku II FZ "Gundam 0080", Bandai RE/100 by Bandai ...
More information
Product description
Brand:

BANDAI MODEL KITS

EAN:

4573102577917

Article number:

BAS5057791

Availability:

Out of stock
Code: BAN5057791
Release Date: July 2019
Series:Gundam 0080
Item Size/Weight: 150mm×205mm×80mm
Manufacturer: Bandai / Gunpla

Scale: 7" Approx Size


DESCRIPTION
This is an Action Figure of a Gundam 0080 / science-fiction item.
Featuring a new internal structure that utilizes KPS plastic instead of PC parts for joints, the Zaku FZ from "Gundam 0080 War in the Pocket" arrives as an injection plastic 1/100 model for the first time as part of its 30th Anniversary! New structure allows expanded range of motion within chest and cockpit block, while color separation allows small details to be recreated as unique parts. Includes interchangeable head parts to recreate commander and Fritz versions of head and features Heat Hawk, MMP-80 machine gun, hand grenades. Runner x 12, sticker, Instruction manual.