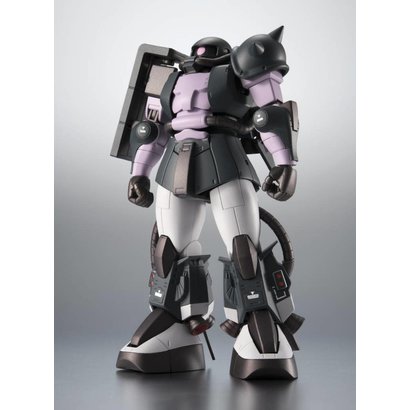 Tamashii Nations
55039 MS-06R-1A ZAKUⅡ High Mobility Type ~Black Tri Stars~ ver. A.N.I.M.E. "Mobile Suit Gundam", Bandai Robot Spirits
BAS55039
Availability:

Out of stock
MS-06R-1A ZAKUⅡ High Mobility Type ~Black Tri Stars~ ver. A.N.I.M.E. "Mobile Suit Gundam", Bandai Robot Spirits ...
More information
Product description
Brand:

Tamashii Nations

EAN:

4573102550392

Article number:

BAS55039

Availability:

Out of stock
Release : FEB 2019
Approx Product Size: 5"
Approx Package size: 8.6x7.6x1.7 in
The popular Mobile Suit Variation design joins the ver. A.N.I.M.E. series! The Zaku II High Mobility Type in Black Tri Stars livery portrays the legendary machine as it appeared in the early phases of the One Year War, where it racked up victory after victory and earned great fame for its pilots. Includes abundant option parts, letting you display three (each sold separately) side by side to re-create the team. Accessories include four pairs of optional hands, a prototype Giant Bazooka, an optional head, a Zaku machine gun, a Bazooka holding hand, a hand storage deck, a Heat Hawk, a retracted Heat Hawk, six curved thruster effects, four straight thruster effects, and a Bazooka mount.