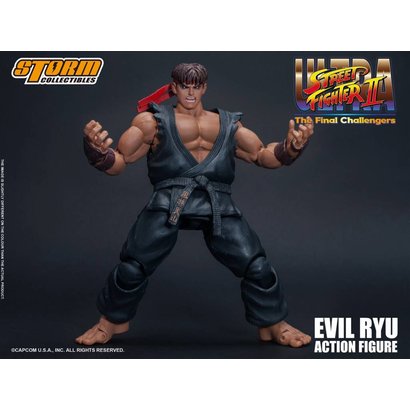 Storm Collectibles
87062 Evil Ryu "Ultra Street Fighter II: The Final Challengers", Storm Collectibles 1/12 Action Figure
STM87062
This is a Evil Ryu "Ultra Street Fighter II: The Final Challengers", 1/12 Action Figure by Storm Collectibles. ...
More information
Product description
Release: 10/2018
Approx Product Size: 7"
Approx Package size: 8x9x3 in
Evil Ryu is an alternate form of Ryu who is heartless, mad, uncontrollable and nothing more than a demon! Evil Ryu enjoys absolute power and obsesses with fighting. He will defeat any fighters standing in front of him with no empathy or respect.
Product Features:
4 x Interchanging Evil Ryu Head-Sculpts
4 x Pairs of Hands
1 x Hadoken Effect
1 x Stand for Hadoken