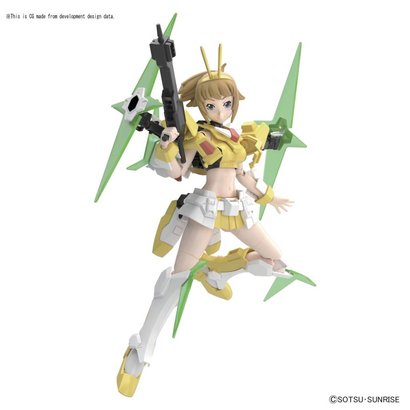 BANDAI MODEL KITS
219551 : #62 Winning Fumina "Gundam Build Fighters Try", Bandai HGBF
BAN219551
Availability:

In stock

Delivery time:

PRE-ORDER 30-120+ days ESTIMATED Time for DelIvery or Store PIck-Up
This is a HGBF 1/144 WINNING FUMINA FROM "BUILD FIGHTERS" by Bandai Hobby ...
More information
Product description
Brand:

BANDAI MODEL KITS

EAN:

4549660195511

Article number:

BAN219551

Availability:

In stock

Delivery time:

PRE-ORDER 30-120+ days ESTIMATED Time for DelIvery or Store PIck-Up
Date Expected: Nov 2017

Release Date Sept 2017
BANDAI HOBBY HGBF 1/144 WINNING FUMINA FROM "BUILD FIGHTERS"
The goddess is here! Based on "Winning Fumina" from the new Gundam Build _Extra Battle Project, Super Fumina has been upgraded and evolved! Her armor is detachable and can be reassembled to make the Super Deluxe Winning Gundam (tentative name). For added play value, her weapons are made of transparent pieces and can also change into various forms! New materials with high durability and flexibility are used for the joints and are made using new metal molds. Winning Fumina has a wide range of motion and can be arranged in a great variety of poses! A highly accurate 3D representation of Winning Fumina is achieved utilizing newly designed pieces. Detailing down to the texture of the character's clothing and skin and recreated with precision and stickers can also be used to make the kit look left and right. Set includes beam rifle, effect parts (large) x4, effect parts (small) x4, clenched and (left and right), open hands, and display base. Runner x12. Sticker x1. Instruction manual x1.