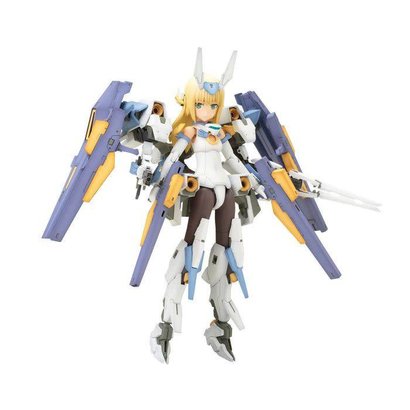 Kotobukiya (KBY)
FG012R FRAME ARMS GIRL BASELARD MODEL KIT (REPRO)
KBYFG012
This is a FG012 FRAME ARMS GIRL BASELARD MODEL KIT (REPRO) by Kotobukiya ...
More information
Product description
Brand:

Kotobukiya (KBY)

EAN:

812771026826

Article number:

KBYFG012

Availability:

In stock
Code: KBYFG-012
SKU FG012R
License No
Scale Non-scale
Material PS, PE, ABS
Series Frame Arms Girl
UPC 812771028219
Release Date Late October 2017
Item Size/Weight:31.0cm x 19.0cm x 9.8cm / 560g
Manufacturer: Kotobukiya
Details:
Kotobukiya's Frame Arms Girl line expands with a special version of the Frame Arms Girl Baselard.

Consisting of around 200 pieces, Frame Arms Girl Baselard is fun to build and display.

All Frame Arms Girl are compatible with other Frame Arms Girl and Frame Arms model kits, and consist of wide range of posing options (some poses may require a display stand)


Fully customizable! Use with other Frame Arms Girl armor, weapon, and model kit sets!
KOTOBUKIYA Japanese import!Frame Arms Girl is a unique expansion of Kotobukiya's Frame Arms series combining the customizability of those plastic model kits with the aesthetics of our Ani*Statues. Following up after Stylet, Materia, and Jinrai in this unique line is a hot new feminine take on an existing Frame Arms robot: BASELARD! While standard Frame Arms robots are built around a basic, articulated internal skeleton, the Frame Arms Girls like Baselard are actual robot Frames themselves capable of utilizing an astounding array of armor, weapons, and accessories. While the original YSX-24 Baselard was an agile Frame Arms robot with connecting rifles and a huge shield this new version looks like a real girl, slender and cute, who wears black stockings and high-tech white armor (complete with connector pieces) on her torso, arms, and legs. She also rocks a matching necklace and a rabbit-eared accessory over her long blonde hair and comes with tons of cool equipment like boosters, articulated weapon arms, and rifles. The Frame Arms Girl consists of approximately 200 pieces and features multiple points of articulation for a wide array of posing options. Her universal 3mm attachment points are fully compatible with parts from all Frame Arms units and Koto's M.S.G. (Modeling Support Goods) series of support units as well as the Border Break robots. Baselard stands just under 6 inches tall. Pair her with the previously released Frame Arms Girl robots for even more customization options! © Kotobukiya