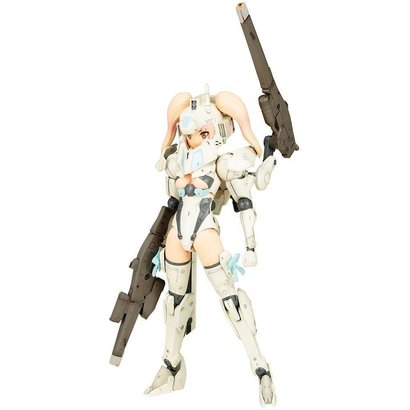 Kotobukiya (KBY)
FG015 FRAME ARMS GIRL WHITE TIGER / BAIHU MODEL KIT
KBYFG015
Availability:

Out of stock
This is a FRAME ARMS GIRL WHITE TIGER MODEL KIT by Kotobukiya ...
More information
Product description
Brand:

Kotobukiya (KBY)

EAN:

812771028530

Article number:

KBYFG015

Availability:

Out of stock
Code: KBYFG-015
SKU FG015
License Frame Arms Girl
Scale N/A
Material PS * ABS
Series Frame Arms Girl
UPC 812771028530
Release Date Late March 2018
Item Size/Weight:
Manufacturer: Kotobukiya
Details:
Completely new modeling for this Frame Arms Girl

Despite its new mold, this product is still compatible with all previously released Frame Arms Girl plastic model kits
Use parts from White Tiger Frame Arms plastic model kit (sold separately), which shares the same robotic design, for customization.
Included face parts: natural face looking forward, natural face turning right, battle cry face.
All parts are pre‐painted
Customize with Frame Arms Girl Materia (sold separately) to equip with lightweight armor.
Use with swing or slide articulation on hip joints for a wider range of articulation.
Ball joints in wrists for more posing options.
Includes 5 different hand parts (per hand).
Joint parts (3mm) included for compatibility with M.S.G and Frame Arms series.
The newest addition to Kotobukiya's Frame Arms Girls is none other than White Tiger! Youji Shinkawa, the original designer of the Frame Arms White Tiger plastic model kit, also did the design for this Frame Arms Girl White Tiger.
© KOTOBUKIYA