Bolt Action 1939-1945 28mm World War II Wargaming
Bolt Action Starter Set - Contains two armies, the full rules and everything you need to get playing. Includes army lists for Germany and the US.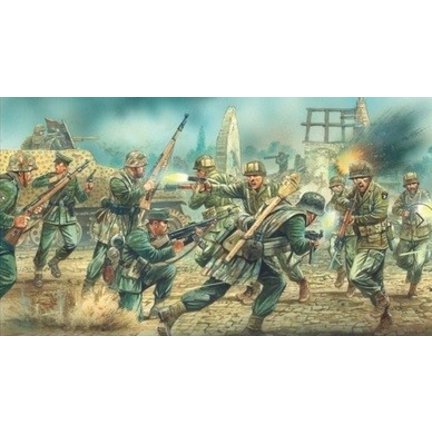 What You Need
To get started with Bolt Action World War II wargaming you'll need two players, two armies, a copy of the rulebook and of course somewhere to play:
Two Armies
You can play a fun game with just a squad or two each, and your forces will soon expand ready for bigger battles.
Rulebook
The rules explain how to fight a battle, issuing orders to your units to move, shoot or assault at close quarters. They also cover how to pick two evenly matched forces and provide a range of exciting scenarios to fight out!
A Table
Some gamers like to build a fully modelled battleground, but you can have a brilliant game on the kitchen table. Try to avoid having to abandon your battle for the evening meal though.  You can even play on the floor - just watch out for careless feet or marauding cats!
Some Terrain
For an entertaining game of Bolt Action, it's important to give your troops some cover and objectives to seize on the battlefield. Besides, creating the scene is part of the appeal of World War 2 wargaming.  You can buy terrain or build it from scratch, but for your first few games, a pile of books serves well as a hill and a few boxes as a buildings.
Collect an Army
Putting together a Bolt Action force is lots of fun and there is a huge array of choices. Start with your infantry and then add vehicles and artillery.
Paint Your Models
A fully painted army is an awesome sight and a great achievement, and this part of the wargaming hobby is just as rewarding as playing battles. Start simply and your skills will quickly improve as you practice.
Fight a Battle
The Bolt Action rulebook contains six scenarios that allow you to fight out World War II battles. Each scenario explains how to set up the battlefield, where to deploy your forces and the objectives required to win the game