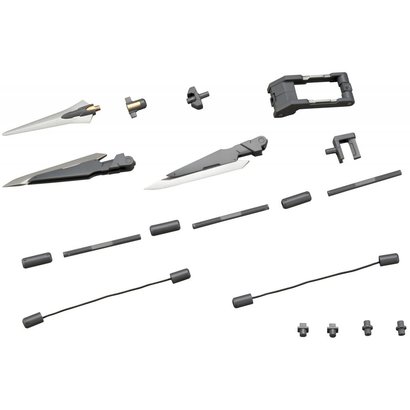 Kotobukiya (KBY)
RW011 WEAPON UNIT11 TRIDENT SPEAR M.S.G
KBYRW011
Availability:

Out of stock
This is a RW011 WEAPON UNIT11 TRIDENT SPEAR M.S.G by KOTOBUKIYA ...
More information
Product description
Brand:

Kotobukiya (KBY)

EAN:

190526015357

Article number:

KBYRW011

Availability:

Out of stock
SKU RW011
License Modeling Support Gear
Scale N/A
Material PVC, ABS
Series Modeling Support Goods
UPC 190526015357
Release Date Late June 2019
Details:
The tips of the blades can be opened or closed to recreate "trident mode" and "single mode." ach joint of the rod part can be disconnected and changed out for wire to give the weapon a unique design.


The included grip unit is flexible and moveable, giving you endless display and posing possibilities. The grip can also be combined with the blade unit for "katar mode." The blade of the blade unit is made of striking silver plastic.
The Trident Spear is the latest fully renewed weapon unit to join the M.S.G. line! Based on the Boomerang Scythe that is no longer in production, this oversized spear can be displayed in a variety of different configurations. The tip of the blades can be opened or closed to recreate "trident mode" and "single mode." The rod part can be changed out and equipped with a wire to extend the weapon's length. The included grip and blade units can also be combined to recreate "katar mode."
© KOTOBUKIYA
Store Location in Sandy Utah - Salt Lake City Metro area
Item Last update: 01/14/2019