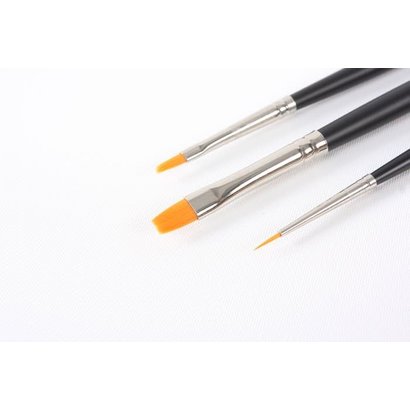 TAM - Tamiya 865-
87067 Modelng Brush Hi Finish Standard Set of 3
TAM87067
These are the Tamiya High Finish Modeling Brushes. This can be used with any painting application. ...
More information
Product description
Brand:

TAM - Tamiya 865-

EAN:

4950344870677

Article number:

TAM87067

Availability:

In stock
INCLUDES:
One round pointed tiny detail brush
One flat #2 0.20" (5mm) wide brush
One flat #0 0.12" (3mm) wide brush
87067 Modeling Brush HF Standard Set - MRSHobbyShop Sandy Utah
The HF Standard Set is for those who wish to gain a more beautiful and impressive finish on their model, whether they are beginners, intermediate or experts.
Comes with High Finish Flat Brush No.0, High Finish Flat Brush No.2 and High Finish Pointed Brush (Ultra Fine).
Brushes employ special plastic hair suitable for model painting.